Looking to surprise the gadget-lover in your life this Christmas? Whether it's a new pair of wire-free headphones, a retro video game console, a drone or something sporty, you'll want to choose wisely. Luckily, you can't go wrong with our gadget gift picks!
This collection covers the whole gamut of amazing inventions from 2018. Some of them work as stocking-fillers. Others ask that you loosen your purse strings a little further. All of them do the business as fantastic gifts that won't break the bank.
Sound Intone P6 Wireless Bluetooth Headphones
Swap the sounds of someone from marketing loudly retelling their story of being drunk in Ibiza for some sweet solitude with these, the best value-for-money cans on the market. Wire-free, built-in radio, TF memory card slot. Need we say more?
---
Super Bright Triple LED Headlamp (Waterproof & Rechargeable)
Its triple beam and rugged design make this the perfect gift for any outdoorsman (or woman) who likes to go camping, hiking or for any other night time activity in nature.
---
18X Zoom Telescope Mobile Camera Lens
Give any smartphone superpowers with this adjustable clip on telescope lens. Perfect for any Instagram or hobby photographers, this telescope is compatible with most mobile phones (iPhone or Android) and is a brilliant alternative to pricey DSLRs.

---
Retro Video Game Console With 500 Built-in Games
CoolBaby has just re-released their classic video game console with 500 amazing games built-in. That's right, you finally have the chance to play those classic video games again that you've come to know and love. We're talking about games like Super Mario Bros, Tetris, Donkey Kong, Pac-man, and many more! For less than $70 with free worldwide shipping this is a no-brainer for any video game enthusiasts…
---
Water-Proof Shower Speaker (with suction cup)
This baby will take your sing-along shower sessions to a whole new level! It boasts big control buttons, a water resistant design and built-in mic for both outdoor and indoor use. And the best part – you can get it here for only $25.95!
---
XS809 Mini Foldable Camera Drone
Although compact and lightweight, this little guy ticks all the boxes! A WiFi transmission system provides easy and fun FPV flight within the range of 70 – 100m, as well as a 0.3 MP 120° FOV wide-angle HD camera that can take photos and record 720P videos.
---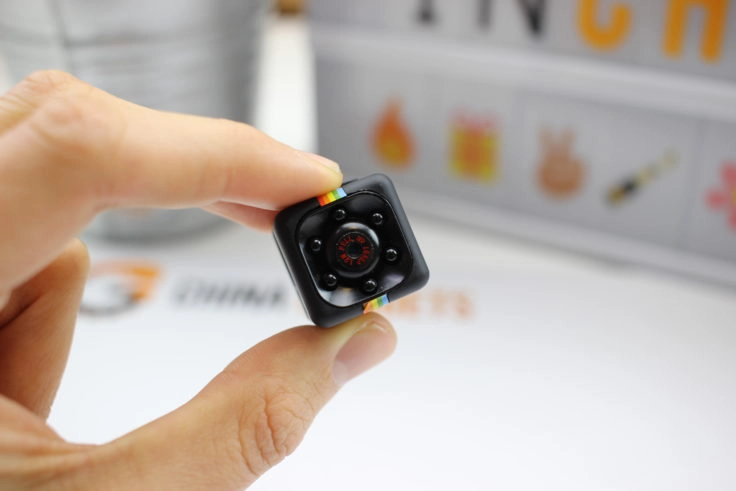 SQ11 Mini Camera (HD 1080P + Night Vision)
Built in a perfect cube, this camera doesn't stand even one inch off the ground. It can record in a crystal-clear 1080p resolution, with a wide 120º field-of-view and yet has a working time of up to 100 minutes! Also built in is a night vision light for recording in the dark, and a motion sensor that turns the camera on once it detects movement from 5-10 meters away. You can now get this amazing mini camera for less than $50 USD! Click the link below for more details.
---
X Dragon Solar Charger
Sometimes, you're going where there aren't any outlets. Or perhaps everywhere there's an outlet there's also a bunch of people crowded around it like it's a desert oasis. Bring the X Dragon instead, a three-panel solar charger that's light, packs a punch, and even comes with a few LEDs to serve as a flashlight. Leave it open in front of a sunny window, and you'll have plenty of power on the plane.
---
WiFi Inspection Camera (720P)
Find Problems At Their Source with This High-Res, High Toughness Camera… Clogged drain? Engine trouble? It helps to be able to see just where the problem is, which is where this handy endoscopic camera comes in.
---
GANZO G202B MultiTool (Black)
Whether you want to upgrade your camping or survival gear – this plier multitool will take care of all the tough jobs. The thick-gauge, extra-durable stainless steel construction makes it a sturdy tool for performing all required outdoor functions.
---
Beard Champion – Hair Clippings & Shaving Apron
No more cleaning the bathroom sink of all your facial hair trimmings, the Beard Bib catches it all and easily disposes of them. Strap this to your shoulders and give yourself a mess-free shave for once.
---
Wireless Bluetooth Earbuds
Free yourself from wires with these convenient, high-powered Bluetooth earphones. Made with a super lightweight design for supreme comfort, you might just forget they're in your ears when you're not listening to music!
---
Mini Car DVR Dash Camera (Full HD 1080P)
The Mini Car DVR Dash Camera is the ultimate personal security camera for your car. It attaches easily and automatically records both audio and video of everything that happens on your car journey. Great for recording road trips or accidents. There are many Dash Cams out there, but this one cannot be beaten on value for money. It records in high definition, has loop recording and lots of other vital safety functions and costs less than $50 bucks!
---
Stainless Steel Reusable Ice Cubes
Chill the Liquor, Keep the Flavor. These New Ice Cubes Are Dangerously Cold. Upgrade your drinking game, and don't water down a perfectly good drink in the process. These stainless steel ice cubes will cool your drink to perfection without changing its flavor one bit. Simply take them out of the freezer, enjoy your beverage responsibly, then return to the freezer to await tomorrow's libations.
---

EKEN H9R Waterproof Ultra HD 4K Action Camera
Thanks to its superb video recording and wide viewing angle of 170º, this camera won't miss a thing! Take it with you on your next bike ride, skydive, skate session, or even when you dive in the ocean, and you'll be able to re-live these special moments for eternity. Action-Cams are notoriously expensive but this one boasts incredible video quality and costs less than $100!
---

Petrol Pump Beer Dispenser
No matter the occasion, this mini drinking machine will add some pizzazz to your event! Serve and store your favorite drinks in style with this super cool retro liquor pump, guaranteed to be a conversation starter! It is super easy to operate, easy to clean and we think everyone should have one.
---
11-in-1 Multi-function Bike Repair Tool
This multi-functional device consists of 7 hex keys, a flathead screwdriver, a cross screwdriver, a T25 Torx, and a chain tool — all made with a high-quality, durable plated carbon steel, held together with an aluminum alloy covered handle. With this 11-in-1 bike tool, you'll be ready for any random break downs, accidents, or unexpected jams.